---
We set sail from Panama and headed further south to Manta, Ecuador. Manta is a small city on the coast of Ecuador. It is supposedly a resort town, but with the severe poverty inflicting that country, itís hard to tell.
Iíve always been fascinated by the fact that, the poorer a country is, the warmer you find the people are. As long as you donít go in waving your "American wealth" around, you can always find the kindest, most generous people anywhere. Ecuador is yet another example of that.

Lieutenant Commander Oswaldo Unda, an Ecuadorian Naval officer who rode the ship during the first part of our trip. It was obvious that he was very uncomfortable during the first few port visits. But we became friends and managed to learn a great deal from each other. He made us feel very welcome in his country. It was an honor to meet and sail with him.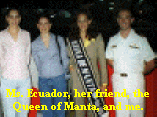 One of the other "fun" things about deployments is the mandatory receptions we are often required to attend. Occasionally, these little shindigs do yield positive results. I got the chance to meet La Reina de Manta (the Queen of Manta). This lovely young lady won a local beauty pageant and earned the title. Her sister was to compete in the Miss World 1999 pageant a few months after our visit. I donít think she won, but it was neat meeting a contestant.
We moved on from Ecuador, leaving a good friend behind. LCDR Unda is a fine officer and I'm glad I got the opportunity to sail with him. I'm glad I got the opportunity to meet so many fine people and hope that I will meet them again, someday.
In the meantime, we're off to Peru!
---