The Texas Gang
The Texas Gang is how I refer to my friends from when I was growing up in Texas. Some I've known since grade school and others I met at University. Most still live in Texas and it's great to catch up when I go home to visit. Some have visited me in various places that I lived and it's always wonderful to see them. We grew up together and I'm glad that we're still friends.

I thought the best way to divide this up was by person. Enjoy and if you have any pictures you would like to include, let me know.

There's more to come so please don't be offended if you're not on here and you think you should be!!! :)
Kevin
Kevin is a University of Texas at Austin graduate who is now an elementary school teacher in our hometown of Round Rock, Texas.

I like to say he's been my friend since kindergarten - we did go to kindergarten together - but the truth is we weren't really friends, we just knew each other. We probably became friends during band in middle school. Kevin played trumpet and I played clarinet. We certainly were friends in high school and managed to remain friends after graduation. Kevin is the one friend that has visited me every place I've ever lived. I guess I'm helping him to see the world! Anyway...here's Kevin.

And ladies...Kevin's single and looking. If you're interested e-mail me and I'll put you in touch.
Hawaii - July 2001

Kevin, me and Paris on the beach at the Paradise Cove Luau.

Kevin, Tatiana and me - being silly at the luau. Their visits overlapped by one day.
| | | |
| --- | --- | --- |
| Kev speaking at the rehearsal dinner. | Kevin and I dancing at the wedding. | Kevin and RJ, another high school friend, at the wedding reception. |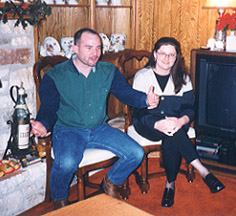 This was the last Christmas party at my parents home. I was still living in Austria and just home for the holidays.
| | |
| --- | --- |
| Kevin at Schonnbrunn Summer Palace. He visited me in Vienna and we played tourist. | We visited a winery outside of Vienna with Dan and Tatiana. This is after sampling several types of wine. I believe we are doing the "potty-dance". |
| | |
| --- | --- |
| During his visit with also took a train down to Salzburg and spent a day there. Here he is on the bridge with the Fortress and Chapel behind him. | We are posing at the fountain beneath the Fortress. |
This was the first Christmas party at my parents house after I had moved to Vienna. I had a great time and it was the first time I had seen everyone since I had moved.

left to right - Chris, Kevin and Peyton
Keri Renee
Keri and I have been friends for about 20 years. Although she moved to Austin during middle school we remained close friends - spending lots of time together over the summers. Once I had a car we were infamous for our long drives to nowhere. We shared a love for many things, music, movies, parties and boys. The main passion we shared, and the most embarrassing, was our love for the band Duran Duran. Hey - it was the 80s!!!

At some point in high school she stopped going by Keri and started using her middle name Renee. I still can't seem to call her Renee...but luckily she still answers to Keri for me.

Keri Renee and her fabulous husband Mark live in Elgin, Texas with their horses, cats, goat and dog.
Wedding - October 2000

Keri and Mark in the parking lot of the motel in Blacksburg.


At the Mexican restaurant the day before the rehearsal.
| | |
| --- | --- |
| | Keri was one of my bridesmaids and had the lovely job of helping with the dress. |
More to come ... if you have pictures you would like to include just let me know!!!