---

We arrived pier side in Valparaiso, Chile in the midst of a morning fog. By now, we had made our way through the month of May and fall was in full swing in South America. The cold weather was just beginning, casting its misty veil over the normally busy beach resort town of Viņa del Mar, just minutes up the road. As with most of the places we visit in the Navy. Valparaiso isn't much more than a harbor town. But those harbors almost always lie close to an amazing place to explore.
Our arrival to Chile marked the true beginning of TeamWork South '99, the US-Chilean naval exercises we had set out over a month before to conduct. There was much work to be done, but we still made the best of our liberty time. For me, that meant taking advantage of an opportunity I thought I'd never get. As soon as I was able, I signed up for the first bus out to go snow skiing in the Andes Mountains!

We left early in the morning and took the long winding road away from the coast and into those rugged mountains. The morning remained hazy all the way and I watched as the beautiful Chilean countryside rolled by my window. Four hours later, we pulled into the parking lot of Chile's most famous ski resort and hotel, Portillo, on their first open day of the skiing season.
What that meant was that there were only three slopes open. That was fine with me. I hadn't been skiing in over seven years, and the limited number of slopes forced me to refresh my skills on the less dangerous runs. Even so, it didn't take me long to regain my confidence and brave the one intermediate slope that was open.

When I left Hawaii, I knew there might be a chance to ski the Andes and I made sure that I had everything with me to make that trip possible. I had lashed my skis to hang above me while I slept, just to make sure they were properly stowed out of the way. I had packed my ski bag with all the skiing accessories I had: gloves, goggles, ski pants, a headband to cover my ears. Unfortunately, the one thing I didn't have was a proper jacket. I had remembered to bring my favorite heavy jacket, a leather duster I picked up in Korea. But that was hardly the right jacket for skiing...or was it? Well, you know what they say about necessity. I decided that skiing wasn't about fashion, so I suited up with what I had and hit the slopes. It wasn't pretty. I even had an Argentinean fellow ask me if I always dressed that way. I told him, "Of course!" What the heck?


Fortunately, the resort provided plenty of scenery to distract most visitors from those of us who couldn't quite get their fashion issues under control. As the day progressed, I managed to rediscover my love of the snow (what little bit of it there was). Lunch was sparse, but I was fully satisfied by the fresh mountain air whipping by me as I zoomed down the slopes. It was a day I'll never forget.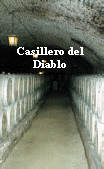 One of the other great things I got to do was become acquainted with the fine wines of Chile. Certain areas of Chile actually have conditions that are very close to the finest vineyards of France. I had the opportunity to visit the vineyards of Concha y Toro. This winery is the home of one of Chile's most famous wines - Casillero del Diablo.
The name itself means "The Devil's Cellar" and it has an interesting history. It seems that many decades ago the master of the vineyard had the problem of wine bottles disappearing from his private wine cellar. After several bottles had turned up missing, the master went down into the cellar at night with nothing but a single candle. Hiding behind one of the shelves, he waited until he heard someone else enter the cellar. He used the candle to cast ominous shadows on the wall and made frightening noises. Later, some of the vineyard workers came to him and told him that there was a frightening spirit living in his cellar. The master replied that the spirit in the cellar was the Devil, himself, who had been summoned to protect his wine. From that day on, he never lost a single bottle of wine. And his personal wine cellar and the vineyard's best-loved wine became known as "Casillero del Diablo".

After the visit to the vineyard, the tour group was treated to a traditional Chilean meal at "La Vaquita Echa". This little, dirt-floor restaurant served what was quite possibly the best Filete Pobre I will ever eat. For those of you who don't know, filete pobre is a South American dish that serves as just about every decent doctor's nightmare. Take one well-cooked filet mignon and serve it with two fried eggs, carmelized onions seasoned with salt, and a generous portion of papas fritas (french fries). Really filling and absolutely delicious. Not a meal to be eaten more than once a year, if you value your health.
We got underway after about a week in port and headed out for exercises, returning to port in Antofagasta...ready for more fun.
---