---

A few short (read, "busy") days later, we pulled into the port of Callao, Peru. Callao is actually a fairly industrial area, little known to the outside world. It is, however, very close to a much better known city...Lima.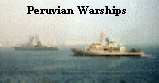 This was another working port, for me. Much of our time in Peru was spent in military briefings about the various exercises we would be conducting with the Peruvian Navy. It was an excellent chance for us to understand each other as professional sailors. Granted, there's almost no way to make the vast majority of military briefings all that interesting, but we did manage to learn alot from each other while we were there.

There really wasn't much to look at in Callao. It seems there isn't much of a tourist industry, in the traditional sense. Lima had some fabulous open-air street shops, where the native Indians would sell llama fur sweaters and exquisite silver jewelry. Night life is plentiful, as in just about every other country in South America. Those folks just know how to party.

They also know how to gamble. It was in Peru that the crew got its first taste of the South American casino scene. This little diversion would prove fruitful or ruinous (depending on the person) throughout the rest of our port visits. Not being a gambler myself, I didn't really mind spending so much time on the ship or in the briefings. The views in the quaint harbor were nice. And I stillI managed to get some good food and great coffee in town.
Looking back, I don't have any regrets about missing things in Peru. As I was about to find out, the best was yet to come. We were on our way to Valparaiso, Chile!!!
---